Raquel é a princesa de Torres Altas no sul do Peru,ela é uma princesa muito ligada a Fauna e a Flora da natureza .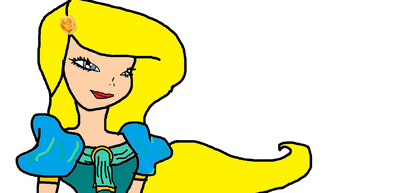 Sua mãe a rainha Jibbeath(ou Jibbelle)quando era criança sonhou que viu uma prinseca com um comportamento exemplar!Assim foi crescendo ensinando Raquel a agir como a princesa de seus sonhos mas isso não dá certo!!
Seu pai rei Félix apesar de se vestir de modo apavorante e assustador seu pai é mais compreensível que sua mãe.
Seu pai faz de tudo para agradá-la mas sua esposa a rainha não deixa ele comprar algo para a filha até ela agir feito uma princesa totalmente formal e super educada!
Seu melhor amigo Xal,xal um cão muito irado e salva-vidas da Raquel!Oque ela não sabia era que ele é um príncipe da Bolívia e que tem estado ao lado dela em todos os momentos da vida dela!Por isso a salvou milhares de vezes!
DADOS DA PERSONAGEM:
IDADE:15 anos
PARENTES:rei Félix(pai),rainha Jibbeath(mãe),Príncipe Cristoffer(Xal xal)(seu príncipe)
APARÊNCIA:Cabelo loiro,rosa de ouro no cabelo,vestido azul e verde turquesa com cinto de ouro.
DESTINO:Seu cabelo e voz mudam,vira a rainha de Torres Altas e casa-se com o príncipe Cristoffer
CITAR:
-Venha Xal xal
-Ela é muito chata1
-Um urso!!!!!!
Ad blocker interference detected!
Wikia is a free-to-use site that makes money from advertising. We have a modified experience for viewers using ad blockers

Wikia is not accessible if you've made further modifications. Remove the custom ad blocker rule(s) and the page will load as expected.