Fransuelly.A feiticeira Preta do Norte
700x729 px
700x729 px

Vital statistics

Position
Unknown
Age
21 anos
Status
Morta

Physical attributes

Height
1,98
Weight
65 kg
Fransuelly é muito arrogante e gótica é a feiticeira preta do norte.
É do filme:Henrico ea cidade des bruxas
tem 3 irmãs:Miranda,Glossimerryer e Fanny é a mais velha das 3 irmãs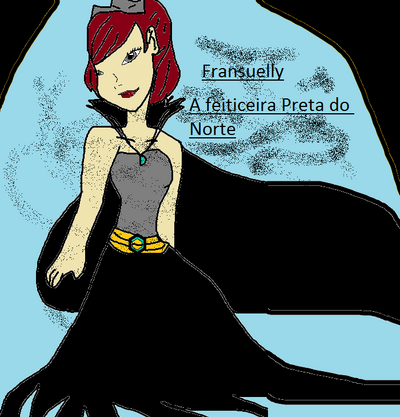 Dados da personagem:
Programa de TV:Reunião de elenco
Atrações de parque:Fantasias
Voz:Millene
Inspiração:Evanora
Personalidade:Arrogante,fria,poderosa,mal humorada e brava
Aparência:Cabelo ruivo,vestido preto
Ocupação:Feiticeira do norte das cidade das bruxas
Parentes:Miranda,Glossimerryer e Fanny(irmãs)
Destino:É morta pelo cristal da fênix
Henrico ea cidade das bruxas:
Fransuelly aparece pela 1° vez voando e treinando o povo das bruxas,em seguida é vista nos seus aposentos com sua mascote uma cocker spaniel preta tomando um pouco de vinho.Fransuelly fala para Henrico ír até a a floresta Darkside.No final vira uma horrível bruxa verde e preta e tenta matar Henrico,logo,logo Butter quebra sua varinha ea mata numa explosão de fumaça preta.
Ad blocker interference detected!
Wikia is a free-to-use site that makes money from advertising. We have a modified experience for viewers using ad blockers

Wikia is not accessible if you've made further modifications. Remove the custom ad blocker rule(s) and the page will load as expected.