Bianca del Mourice é irmã de Ember e Âmbar é a mais velha dos 3 irmãos. Bianca nasceu em uma aldeia no interior tem 10 anos. Entrou na nova frankia "Girls"no dia 03/06/2013 ás 17:50 da tarde.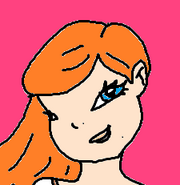 DADOS DO PERSONAGEM: História:O grande Ember(2013) Parentes:Ember e Âmbar(irmãos) Idade:10 anos Aparência:cabelo ruivo,com vestido banco com partes marrons Aniversário:14 de agosto de 1990 Destino:Depois de derrotar os 3 bruxos da aldeia,comemora com seus irmãos,a 2º festa de halloween!! Frases: -Aparece lá em casa! -Como é?
-Geeeenial Ember!!!!!!!!
Histórias que pretende aparecer:
O grande Ember 2:Oretorno dos bruxos da aldeia.
Show de elenco 
Frankia "Girls"
Comportamento:
Bianca tem um comportamento exemplar!Ajuda sempre seus irmãos,faz as tarefas de casa inclusive o dever da escola(ao contrário de Âmbar).Já por ser a mais velha e ser Um personagem secundário ela aparece menos que Ember e mais que Âmbar!E é superprotetora!
Ad blocker interference detected!
Wikia is a free-to-use site that makes money from advertising. We have a modified experience for viewers using ad blockers

Wikia is not accessible if you've made further modifications. Remove the custom ad blocker rule(s) and the page will load as expected.