Tônia é a princesa de Beylett.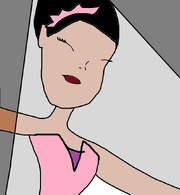 História:
Edit
Ela foi abandona na porta de um orfanato em Sindew uma cidade muito fria no meio do oceano.
No orfanato Tônia olhou pela 1º vez uma aula de  balé e mesmo sendo muito pequena ela amou o balé e uma coisa aconteceu:ela riu pela 1° vez!
Ao longo do tempo Tônia descobriu no seu antigo berço que ela é filha da rainha de Beylett  por tanto ela viaja para  a antiga cidade de Beylett e trás a cidade que foi abandonada para lá e fazem uma colonização
Programas de TV:
Edit
Reunião de elenco
Especial:
Edit
De onde surgiu Tônia?
Curiosidades:
Edit
Ela é descendente de africanos
Por mais que use só rosa sua cor preferida é branco
No filme Fresh.Oreino glacial ela tem um especial porque éa única que não fala a sua história e é disso que se trata o especial
Ad blocker interference detected!
Wikia is a free-to-use site that makes money from advertising. We have a modified experience for viewers using ad blockers

Wikia is not accessible if you've made further modifications. Remove the custom ad blocker rule(s) and the page will load as expected.