Paris é a capital e a mais populosa cidade da França, bem como a capital da região administrativa de Île-de-France.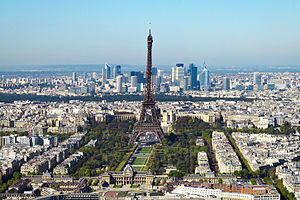 A cidade se situa num dos meandros do Sena, no centro da bacia parisiense, entre os confluentes do Marne e do Sena rio acima, e do Oise e do Sena rio abaixo. Como a antiga capital dum império estendido pelos cinco continentes, é, hoje, a capital do mundo francófono.
A posição de Paris numa encruzilhada entre os itinerários comerciais terrestres e fluviais no coração duma rica região agrícola a tornou uma das principais cidades da França ao longo do século X, beneficiada com palácios reais, ricas abadias e uma catedral. Ao longo do século XII, Paris se tornou um dos primeiros focos europeus do ensino e da arte. Ao fixar-se o poder real na cidade, sua importância económica e política não cessou de crescer. Assim, no início do século XIV, Paris era a mais importante cidade de todo o mundo ocidental.
Aventura no cinema(no capítulo de Paris em 1629)
As aventuras de Karson
Fresh.O reino Glacial
Ad blocker interference detected!
Wikia is a free-to-use site that makes money from advertising. We have a modified experience for viewers using ad blockers

Wikia is not accessible if you've made further modifications. Remove the custom ad blocker rule(s) and the page will load as expected.